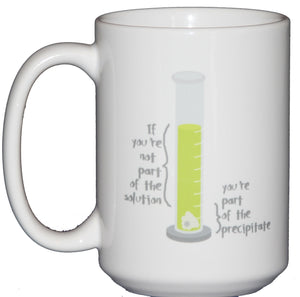 SECOND STRING If You're Not Part of the Solution - You're Part of the Precipitate - Chemistry Jokes Coffee Mug
15oz white mug. Dishwasher and microwave safe. 
What is a second string mug?  This is a mug with a flaw so tiny that I will not sell it at retail, but I will offer it at a steep discount to my loyal customers! 
Second String IS NOT a chip, crack, structural issue, or moderate-major design transfer problem.
Second String IS a small discoloration inside or outside of the mug OR a minor issue with design transfer. 
I cannot guarantee exactly what the flaw will be with your mug, but I can assure you it will be tiny.
Help me keep these out of the landfill!  We use exclusively second string mugs in my home, and once you find the flaw once, you won't even notice it anymore.